Drie katrolschijven Stringer katrolblok
Dit katrolblok met drie schijven van 508 mm wordt geleverd met de maximaal geschikte geleider van de LGJ400. Met andere woorden, en het katrolblok met drie wielen is aanpasbaar aan de geleidende draad met een nominale doorsnede van het aluminium van maximaal 400 vierkante millimeter. De blokmaat (buitendiameter * rooidiameter * schijfbreedte) is Φ508 × Φ408 × 75 (mm).
Technische parameters
Item Number

Model

Number of Sheave

Rated Load (kN)

Weight (kg)

Features of Sheave

10101

SHD508

1

20

18

Rubber coated aluminum sheave

10102

SHS508

3

40

61

Middle: cast steel sheave Conductor: Rubber coated aluminum sheave

10103

SHW508

5

60

93

10104

SHDN508

1

20

16

MC nylon sheave

10105

SHSLN508

3

40

47

Middle: MC nylon sheave Conductor: Rubber coated aluminum wheel

10106

SHWLN508

5

60

79

10107

SHSQN508

3

40

43

MC nylon sheave

10108

SHWQN508

5

60

70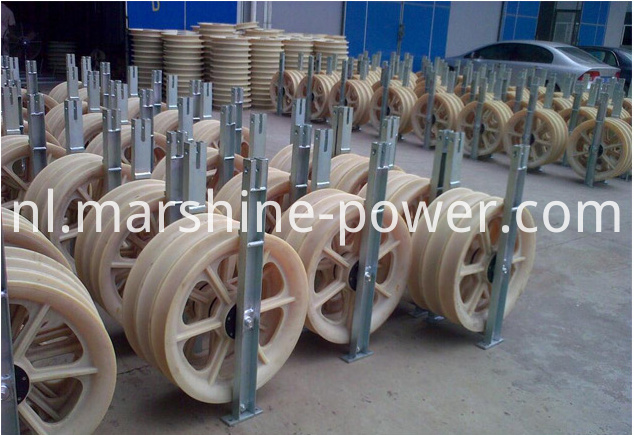 Om het transmissiewerk te ondersteunen, heeft Marshine Power een buisvormige Gin-paal, kom langs klem, kabel katrolblok, nylon katrolhaspel, kabelgaas sokgreep, lijnsnaar swivel-alle zijn OEM en professioneel geproduceerd volgens ISO 9001: 2008, die wordt verkocht aan meer dan 50 landen in de wereld. Sommige items zoals noodrestauratie toren en kruisende structuur, we kunnen aangepast, en de veiligheidsmiddelen en accessoires, zijn niet vereist de MOQ. U kunt vrijelijk helpen met het technische probleem of de productvereisten. Pls benader ons. Bedankt.
Drie katrolschijven Stringer katrolblok
Product Categorie : Rijgen Blok