Gebundeld conductor sringing pulley block
Dit 1040 mm gebundelde geleidende snaarschijfblok heeft een geleiderdiameter van niet meer dan LGJ1120. Dat wil zeggen, het aluminium van deze geleidende draad kan de maximale doorsnede van 1120 vierkante millimeter bezitten. De blokmaat (buitendiameter * rooidiameter * schijfbreedte) is Φ1040 × Φ900 × 125 (mm).
Belangrijkste specificaties
Item Number

Model

Number of Sheave

Rated Load (kN)

Weight (kg)

Features

10165

SHDN1040

1

50

60

MC nylon sheave

10166

SHSQN1040

3

105

200

Middle: MC nylon sheave Conductor: rubber coated nylon sheave

10167

SHWQN1040

5

180

330
De met rubber beklede MC-nylonschijf is volledig gevoerd en de halfgelijnde schijf kan worden aangepast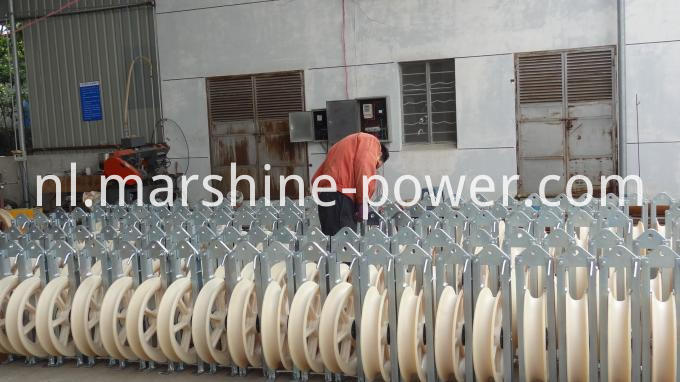 Om het transmissiewerk te ondersteunen, heeft Marshine Power een buisvormige Gin Pole, een klem, een katrolblok, nylon katrolhijswerktuigen, kabelgaas sokgreep, lijnsnaar draaibaar - allemaal OEM en professioneel vervaardigd volgens ISO 9001: 2008, die wordt verkocht aan meer dan 50 landen in de wereld. Sommige items zoals noodrestauratie toren en kruisende structuur, we kunnen aangepast, en de veiligheidsmiddelen en accessoires, zijn niet vereist de MOQ. U kunt vrijelijk helpen met het technische probleem of de productvereisten. Pls benader ons. Bedankt.
Gebundeld conductor sringing pulley block
Product Categorie : Rijgen Blok