ACSR conductor draad nylon katrolblok
Dit 822 mm katrolblok en nylon katrolblok hebben de afmeting (buitendiameter * rooidiameter * schijfbreedte) van Φ822 × Φ710 × 110 (mm). De maximaal geschikte geleider is LGJ630, wat betekent dat het aluminium van onze geleidende draad de maximale doorsnede heeft van 630 vierkante millimeter.
Het product van het type 10148 is ontworpen met de gemonteerde structuur. Het is echt handig om de geleider van de middelste schijf te scheiden, waardoor het gewicht tijdens het transport wordt verminderd. De afmeting van de middelste stalen schijf is φ520 × φ400 × 120 mm. Verder kunnen we ook de rubberen aluminium schijfschijf, de met rubber gecoate MC-nylon schijf en de versterkte nylon schijf voorzien van polyurethaan, leveren.
Technische parameters
Item Number

Model

Number of Sheave

Rated Load (kN)

Weight (kg)

Features

10141

SHDN822

1

30

40

MC nylon sheave

10142

SHSQN822

3

60

118

Middle: cast steel sheave Conductor: MC nylon wheel

10143

SHWQN822

5

120

180

10146

SHQ822

7

120

285

Middle: cast steel sheave Conductor: MC nylon wheel

10148

SHJ822

9

150

445
Rubber gevoerde MC-nylon katrolschijf voor geleider kan worden aangepast.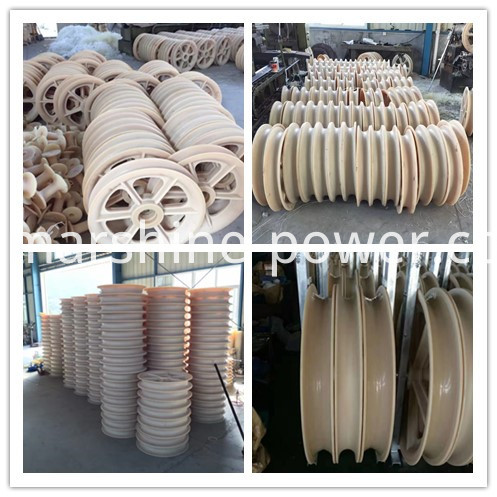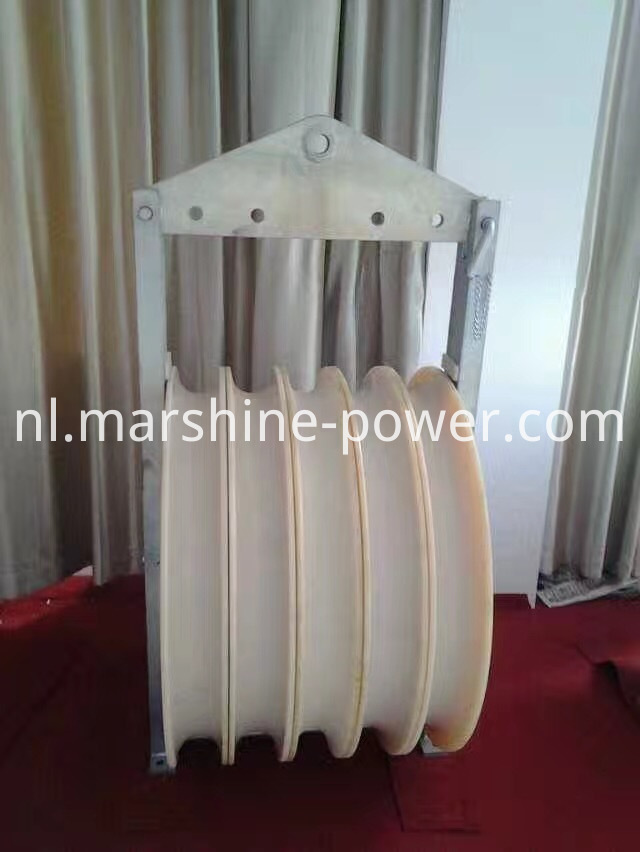 Om het transmissiewerk te ondersteunen, heeft Marshine Power een buisvormige Gin-paal, kom langs klem, kabel katrolblok, nylon katrolhaspel, kabelgaas sokgreep, lijnsnaar swivel-alle zijn OEM en professioneel geproduceerd volgens ISO 9001: 2008, die wordt verkocht aan meer dan 50 landen in de wereld. Sommige items zoals noodrestauratie toren en kruisende structuur, we kunnen aangepast, en de veiligheidsmiddelen en accessoires, zijn niet vereist de MOQ. U kunt vrijelijk helpen met het technische probleem of de productvereisten. Pls benader ons. Bedankt.
ACSR conductor draad nylon katrolblok
Product Categorie : Rijgen Blok